Eris has been assigned a new mission: to infiltrate a spaceship ferrying deadly cargo and return the intelligence gathered to the Resistance. But her partner for the mission, mechanic and hotshot pilot Cloelia, bears an old grudge against Eris, making an already difficult infiltration even more complicated.
When they find the ship, they discover more than they bargained for: three fugitives with firsthand knowledge of the corrupt empire's inner workings.
Together, these women possess the knowledge and capabilities to bring the empire to its knees. But the clock is ticking: the new heir to the empire plans to disrupt a peace summit with the only remaining alien empire, ensuring the empire's continued expansion. If they can find a way to stop him, they will save the galaxy. If they can't, millions may die.
Buy Seven Devils by Laura Lam and Elizabeth May on Amazon.
Top New Science Fiction Books July 2020 
The Unconquerable Sun by Kate Elliott 
Type: Novel 
Publisher: Tor Books
Release date: July 7 
Den of Geek says: Kate Elliott's long career in fantasy has proven her a master of world-building. It has a heck of a tagline: "female Alexander the Great in space." This series promises strong science fiction action. 
Publisher's summary: Princess Sun has finally come of age.
Growing up in the shadow of her mother, Eirene, has been no easy task. The legendary queen-marshal did what everyone thought impossible: expel the invaders and build Chaonia into a magnificent republic, one to be respected―and feared.
But the cutthroat ambassador corps and conniving noble houses have never ceased to scheme―and they have plans that need Sun to be removed as heir, or better yet, dead.
To survive, the princess must rely on her wits and companions: her biggest rival, her secret lover, and a dangerous prisoner of war.
Take the brilliance and cunning courage of Princess Leia―add in a dazzling futuristic setting where pop culture and propaganda are one and the same―and hold on tight:
Buy The Unconquerable Sun by Kate Elliott on Amazon.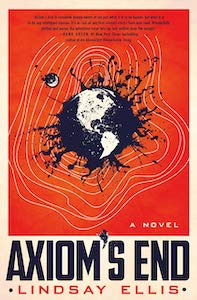 Axiom's End by Lindsay Ellis 
Type: Novel 
Publisher: St Martin's Press
Release date: July 21 
Den of Geek says: Lindsay Ellis is known primarily as a YouTube pop culture critic. She excels at explaining why pop culture works or doesn't work, as well as adding context to day's top headlines. Her first book sounds like a mix between Arrival and The X-Files, set in the early 2000s. 
Publisher's summary: The alternate history first contact adventure Axiom's End is an extraordinary debut from Hugo finalist and video essayist Lindsay Ellis. 
Truth is a human right.
It's fall 2007. A well-timed leak has revealed that the US government might have engaged in first contact. Cora Sabino is doing everything she can to avoid the whole mess, since the force driving the controversy is her whistleblower father. Even though Cora hasn't spoken to him in years, his celebrity has caught the attention of the press, the Internet, the paparazzi, and the government―and with him in hiding, that attention is on her. She neither knows nor cares whether her father's leaks are a hoax, and wants nothing to do with him―until she learns just how deeply entrenched her family is in the cover-up, and that an extraterrestrial presence has been on Earth for decades.
Realizing the extent to which both she and the public have been lied to, she sets out to gather as much information as she can, and finds that the best way for her to uncover the truth is not as a whistleblower, but as an intermediary. The alien presence has been completely uncommunicative until she convinces one of them that she can act as their interpreter, becoming the first and only human vessel of communication. Their otherworldly connection will change everything she thought she knew about being human―and could unleash a force more sinister than she ever imagined.
Buy Axiom's End by Lindsay Ellis on Amazon.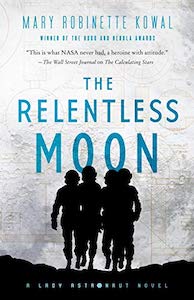 The Relentless Moon (Lady Astronauts) by Mary Robinette Kowal 
Type: Novel 
Publisher: Tor Books
Release date: July 14 
Den of Geek says: The Lady Astronaut series tackles sexism (lots and lots of sexism) in an alternate world where the space race is hurried along by the arrival of a meteor strike. It has gained a lot of fans for its determined characters and convincing alternate history. 
Publisher's summary: The Earth is coming to the boiling point as the climate disaster of the Meteor strike becomes more and more clear, but the political situation is already overheated. Riots and sabotage plague the space program. The IAC's goal of getting as many people as possible off Earth before it becomes uninhabitable is being threatened. 
Elma York is on her way to Mars, but the Moon colony is still being established. Her friend and fellow Lady Astronaut Nicole Wargin is thrilled to be one of those pioneer settlers, using her considerable flight and political skills to keep the program on track. But she is less happy that her husband, the Governor of Kansas, is considering a run for President.